Jayne Orton is the teacher: Birmingham City FC does Iyengar Yoga!
Here is the story of Iyengar yoga entering into the big world of Football in UK in 2005, told by Jayne Orton:
Having been a lifelong football fan particularly of my hometown team Birmingham City FC I was overwhelmed and honored in 2005 to have the opportunity to teach them!
A little background.
Everyone now talks of 'Yoga for Sport' and there are so many teacher training courses how to teach yoga to sports persons etc.  However, the history of this explosion of interest goes back in the UK I believe to around 2003 when Irish footballer Roy Keane the then Captain of Manchester United Football team walked into a church hall somewhere in the Cheshire area to attend a yoga class. He was so impressed with the teachings and the fact that the average man or woman, particularly those much older and stiffer than he, could do all these yogasanas – whereas him being a young top athlete could not!  This got him thinking, attending regularly and then hooked!
Shortly after that Man United had Iyengar yoga at their training ground and many of the huge football stars most notably Ryan Giggs took to yoga – the rest – as they say – is history.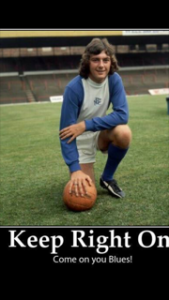 Ryan Giggs put his longevity in Premier League football down entirely to Yoga.
He retired aged 40 years which is unheard of in the game and most of those years were injury free.
So back to Birmingham FC – at the time Steve Bruce (ex Man United player) was our First Team Manager and it was he that gave me the opportunity to bring Iyengar Yoga to my beloved BCFC!
The first 'project' I was given was to try and help a well-known BCFC player who also played for the England National team. This player had been devastated with repeated hamstring tears and disc problems and was recommended  and did infact have back surgery.  However, since the surgery the player had not been able to train or play for BCFC and was in need of great help.
So the club decided to give him one last shot at recovery and this is where Iyengar Yoga came in!
I applied everything I had learnt from BKS Iyengar and taught the player 3 times a week for at least 10 weeks and he practiced himself too.  I took advice from Iyengar himself.   Iyengar never wavered in his support.
The player and club were delighted with the results and he came back into the first team shortly thereafter and continued for years after with Iyengar Yoga only recently retiring himself and now managing a football club in the North.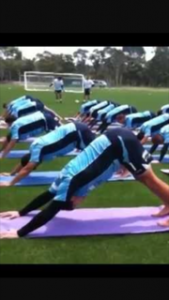 Shortly thereafter I was entrusted with teaching the whole of the first team on a weekly basis and have done so every Monday morning since. Because of the nature of football the squad is always changing so I usually dont have the same students for more than a couple of seasons. However, many many players continue with the practise after they left the club either on their own or even being taught yoga at a new club.
If there is a player with specific injury issues then I work with them one to one and many have visited IYIOB for medical classes.
My main project with the first team however is 'injury prevention'.
Guruji Iyengar gave me great advice to teach them as you would 'normal students' and as in Light on Yoga but to substitute poses like paschittmottanasana and uttanasana single leg hamstring extensions such as Supta padangustasana and utthita hasta padangusthasana.  This has worked very well and the players say they can't do without their yoga classes!
Guruji gave the advice to not overwork the players and also to understand the need to rest and recover after games.  Many think that because they are young fit sportsmen with the world at their feet (literally!) that you can 'work them hard'- but because of his experience Guruji knew the balance required for these players between body, mind, spirit.
As a teacher of yoga to these players one also has to deal with psychological dejection for instance if they lose games – or to use footballing terminology ' if their head goes down'.  So, one has to consider the whole human being – just as we do when teaching in regular classes. To me this is the fascination of teaching Iyengar Yoga, how the practise is uplifting on so many levels.  Inner strength, focus, courage, determination is required particularly in big, crucial games and local derbys with our 'friends' across the city in Aston(AVFC!).!!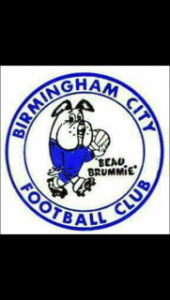 As I said earlier – now Yoga for Sport ' is everywhere!  I like to think that along with Roy Keane & Ryan Giggs –  BCFC played a big part in that.
The pioneer of course was BKS Iyengar who taught the Indian Cricket Team and notably Sachin Tendulkar for many years including many other sports men and women.  His book 'Yoga for Sport' is an amazing detailed reference book and I use it every Monday morning at the training ground!
Jayne Orton
IYIOB
https://www.bodilmauritzen.no/wp-content/uploads/2017/06/jayne-birmingham.png
320
180
Bodil Mauritzen
https://www.bodilmauritzen.no/wp-content/uploads/2013/04/Bodil_11-300x55.png
Bodil Mauritzen
2017-06-23 18:10:03
2017-06-23 18:12:02
Jayne Orton is the teacher: Birmingham City FC does Iyengar Yoga!